INFRASTRUCTURE AND RESOURCES
The college has its own spacious, three storeyed, well ventilated and independent building which has 45 rooms of different sizes. It is beautifully surrounded by lush green garden & tall trees. It possesses separate parking place for the vehicles of both boys and girls. It has also cool and pure drinking water facility.


GREEN AND CLEAN CAMPUS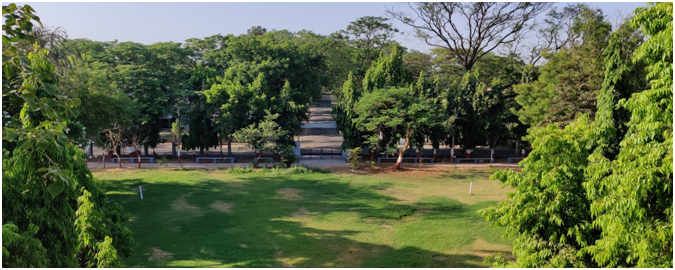 The college is having a lush green campus with a large garden. It has a number and variety of trees within and surrounding the college. The campus is always kept clean. Due care is taken to protect the environment.
LIBRARY AND READING ROOM
It is indeed a matter of great interest that college has a rich and resourceful library with around 30,000 books, and numerous journals and magazines on trade, commerce and industry of national and international repute. The students can utilize a separate reading room for enriching their studies. Reference books and paper sets are available in the reading room.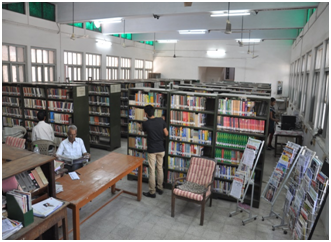 HEALTH CARE


For the new entrants, the college organizes, on compulsory basis, the medical check-up camp soon after the admissions are over. Those having ailments may visit Krishna Hospital, Karamsad. For general illness, students can contact University Health Centre where medicine is given free of charge. The centre is situated behind BJVM.
THE COMPUTER LAB
The Human Resource Development Laboratory is air conditioned and fully equipped with modern gadgets like LCD, TV, VCR, VCP, OHP, micro phone systems, computers, multimedia, internet and audio-visual aids to facilitate effective teaching, learning and development of students.

THE COMMUNICATION SKILLS LAB


This laboratory is equipped with all the necessary audiovisual equipment to strengthen communication skills of the students, especially in English.
INTERNET CLUB
Internet facility is made available on voluntary membership on the payment of membership fee as prescribed by CVM.

GIRLS' ROOM


The college has an independent girls' room with necessary facilities. Girls can avail of it in the event of being free.
SEMINAR HALL
State and National seminars, conferences, workshops, symposiums are organized in well equipped seminar hall. Management lecture series, behavioural science workshops, Entrepreneurship awareness programmes are regularly organized throughout the year

CANTEEN


A small canteen in the college campus is a good facility for students and staff wishing to have a quick bite and sip coffee and tea.
THE HOSTELS
Charutar Vidya Mandal has hostels both for boys and girls. The boys are given acommodation in Liberty Hostel at a five minutes distance from the college. For girls, this facility is available at C. J. Patel Ladies Hostel (Ranak Hostel) complex near Shastri Maidan. Due to increasing rush of occupants, the students interested in hostel facilities are requested to book their room promptly.