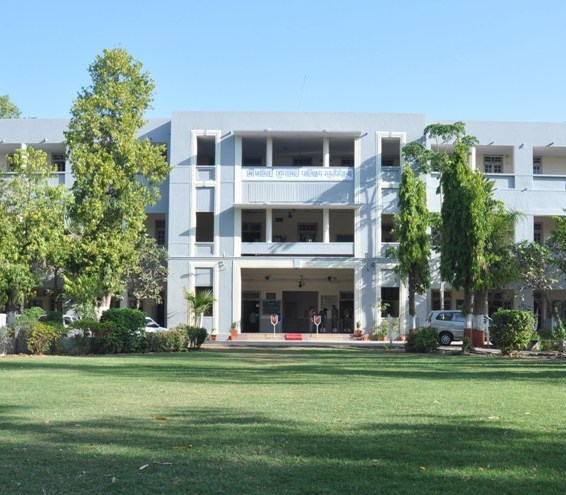 At a Glance Bhikhabhai Jivabhai Vanijya Mahavidyalaya (BJVM) is named after grandfather of Shri Upendrabhai M. Patel, the Chairman of Shree Dinesh Mills Ltd., Vadodara. BhikhabhaiJivabhai Patel the donor hailed from village Ode. He started his career as a humble teacher getting meager salary of rupees 12, who later became the Manager of Rajpura Mills and then the founder of New Rajpura Mills. Late Shri Bhaikaka approached him with the purpose to obtain donation which late Shri BhikhabhaiJivabhai readily and happily gave.

With the help of this donation, it was possible to establish the present Commerce College -BJVM. The donor became successful industrialist with his innate capacities, understanding and substantial hard work, and started Textile mills in Ahmadabad. His second-generation members Shri Upendrabhai, Shri Girishbhai, Shri Bharatbhai further developed the business and diversified it by successfully managing Shree Dinesh Mills Ltd., Now; they are exporting woolen clothes and enjoy prime status among industrialists. The foundation stone of BJVM was laid by Dr. Rajendra Prasad, the First President of India on October 16, 1950 and was inaugurated by Shri KasturbhaiLalbhai, a renowned industrialist of Gujarat.

The college started functioning from June 15, 1951 with an enrolment of 51 students in its B. Com. Course. Over the years, it has grown in all dimensions and has become the torch-bearer in academic field. Being the pioneer institute, to launch BBA Programme in the whole of Western region the college is still very serious about conducting the Personality and Character-Building activities on regular basis.

The college has been established by Charutar Vidya Mandal (CVM), Vallabh Vidyanagar; and the college is affiliated to Sardar Patel University (SPU), Vallabh Vidyanagar. College is Re-Accredited 'B' Grade by NAAC in Year 2015.